Nollywood actress, Regina Chukwu, has triggered reactions on social media after a video of her struggling to breathe in her corset dress was shared online.
Regina recently hosted a housewarming party and invited some of the movers and shakers of the entertainment industry to celebrate her new home.
She shared videos of the event on her Instagram page. However, one particular video has sparked a lot of reactions online.
In the video, the thespian can be seen wearing a tight gold corset dress that cinched her waist and accentuated her curves as she sat on the podium.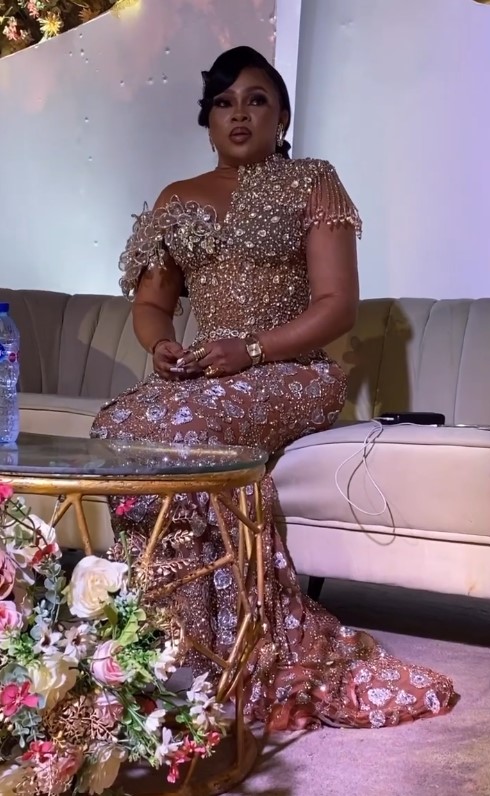 Reacting to the clip, some fans pointed out that Regina appeared to be in extreme discomfort and had difficulties breathing due to the dress.
@yetty_bimbs wrote, "Omo she can't breath very well…nkan ti corset yi ma da si le agbara corset oni ka????????????????"
@mayreeh_psamuel wrote, "She looks so uncomfortable with this dress, like she can't breath well or something. Omo this snatching sha ????????"
@mide_moh wrote, "Is she breathing well? I can see her panting…???? Corset yi nooni"
@borlarjoko wrote, "Person wey supposed wear iro and buba make she finish her look with accessories ????, look at how she's looking uncomfortable in a corset dress."
@haddy_fad wrote, "This corset design is among 10 ways to die … I remember my sis telling me to sew one corset style like that I sha tell her to get me oxygen cylinder and d pipe ready ..mo fe kuu"
Watch the video below,